GUNTERSVILLE, AL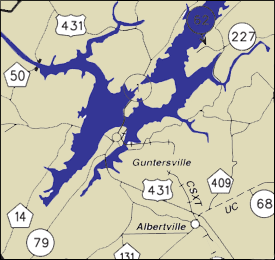 An impoundment of the Tennessee River, Guntersville Lake is known for its diverse fishery and abundance of aquatic vegetation. The lake is full of hydrilla, milfoil and grass, providing gamefish with an abundance of habitat. In combination with the vegetation, the lake is full of submerged stump fields that were left after the forest was cut before flooding occurred. Guntersville Lake is a premier angling destination. Due to its robust and diverse fishery, numerous tournaments are held on the lake. There is a tournament almost every weekend, from local clubs to national tournaments. The lake has an extensive buoy system that all boaters should become familiarize with before departing on a boat outing.
Lake Guntersville is 67,900 acres in size with an average depth of 15 feet and a maximum depth of 45 feet. From Guntersville Dam to Nickajack Dam, the lake measures 76 miles. A Tennessee Valley Authority (TVA) impoundment of the Tennessee River, the Sequatchie River is the main tributary, followed by Town Creek and numerous smaller creeks. The deeper portions of the lake generally consist of sand, gravel and mud. The steep ledges of old stream channels consist of limestone. Most of the shoreline has a sand and gravel bottom. Heavy siltation has ooccurred in some creeks such as Mud, North Sauty and South Sauty. Annual winter drawdowns lower the water level about 2 feet. The TVA manages the entire 949 miles of shoreline which occupies a narrow valley between steep sloping, forested ridges. Approximately 15% of the shoreline is developed, mainly with residential housing and very limited commercial development.
Boat ramps and private marinas dot the lake's perimeter. Fishing, boating, camping, hunting and eagle watching are popular sports in the area. Eagle watching centers on Guntersville State Park and the dam during the winter, though some bald eagles stay all year.
You can get more information on the area by visiting the Lake Guntersville Chamber of Commerce, or the Marshall County Convention and Visitors Bureau websites.