Kudzu Cove Cabins is one of the newest stops on the Alabama Birding Trail.
The fishing ponds and quiet atmosphere make this property a favorite for area birds.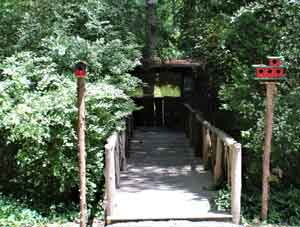 Our "Bird Blind" and "Kudzu Hut" are great places to sight birds while you go virtually unnoticed. The bridges, gazebo, and decks also make great places to photograph a plethora of bird species.
The current species list includes Bald Eagle, Northern Harrier, Hawks, Merlin, Kestrel, Woodpeckers (including Pileated!), Finches, Buntings, and songbirds galore! Be sure to bring your binoculars and your camera.